List and Find Channels and Rooms
The Portal lists all Channels and Rooms for your Application ID from the main Channel or Room menu. The list indicates which channels have active streams by showing a green dot next to the Channel or Room name.

Sort the list by clicking on a column heading (e.g., clicking on "Created" will sort the list by creation date). Clicking on the column heading again will reverse the sort order (e.g., clicking on "Created" when the list is sorted with the newest item first will change the sort to show the oldest item first).
The vertical ellipsis can be used to access options such as deleting a Channel or Room directly from the list.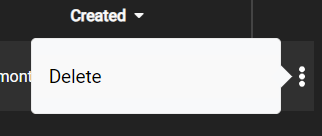 Use the search function in the upper right of the list to find a Channel or Room with a name containing the search string.

The Portal filters the Room list by Room Type. Click on the drop-down menu to select the type of Room to use for filtering the list.

v2023-12-04T20:36:01.000Z